Showing items tagged speaker. Show All
March 2 Speaker Series w/ Greg Vetter in case you missed it!
The idea 25 years old, playing professional lacrosse and selling health care benefits in Annapolis, Maryland  Comes home one day to find that his mother's homemade salad dressing was stolen by...
Posted: March 4, 2016, 10:49 PM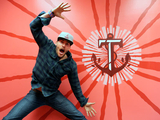 Greg Vetter Speaker Series: March 2, 2016 - 12-1 pm, UC 310
Reminder that the first Speaker Series and event of the semester is tomorrow, Wednesday March 2 during free-hour. We look forward to seeing you there! You hear a lot about the Start-Up process,...
Posted: March 1, 2016, 1:13 PM