Showing items tagged business. Show All
Jason Pappas' Workshop on financing your company
For those who were able to make it to Jason Pappas' first of two workshops on "How to Finance Your Business" this past Friday know what a wealth of knowledge he has to share. He discussed some of...
Posted: October 28, 2014, 2:42 PM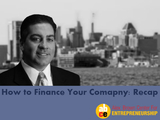 Win CASH prizes, mentorship, resources, and incubator space
TowsonGlobal is Towson University's business incubator. As part of the Division of Innovation and Applied Research, TowsonGlobal's mission is to help early-stage companies and encourage...
Posted: October 19, 2013, 5:01 PM