Showing items tagged richardson. Show All
Insource: Revolutionizing teamwork among university students
For those of you that don't know Kyran Richardson, he is a recent UMBC graduate, who majored in Financial Economics. I had the pleasure of having a few entrepreneurial classes with him, and he has...
Posted: July 25, 2014, 2:00 PM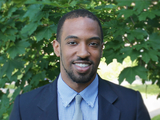 Cangialosi Business Innovation Competition Winners Announced
On Thursday, April 24th, a full house of supporters turned out for the inaugural Cangialosi Business Innovation Competition (CBIC). Coordinated by UMBC's Alex. Brown Center for Entrepreneurship,...
Posted: April 28, 2014, 5:15 PM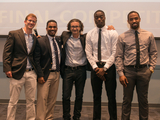 Kyran Richardson Percy Addo win it with InSource #GotIdeas
The Sports Zone was yet again packed for UMBC's fall Idea Competition held on November 11th. Over 40 ideas were submitted and the Top Ten were selected for the final competition. Due to a last...
Posted: December 2, 2013, 7:07 PM