Annual Idea Competition Applications are Due TODAY!!
Submissions are being accepted no later than 1 pm TODAY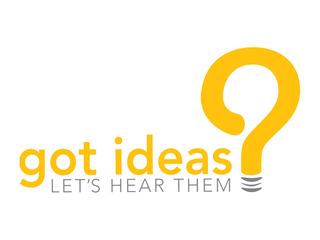 GOT IDEAS? LET'S HEAR THEM! Share them with us and you might win $750! Keep reading to learn how your brilliant idea can win you some cash!
The annual UMBC Idea competition is designed to challenge you to think about problems and opportunities all around us. If UMBC is one of the most innovative schools in the nation, then UMBC students are just the kind of innovators that can really change the world. This is your chance to make it happen.
Simply answer a handful of general questions regarding your idea on the entry form (video pitches are allowed, just link your video to your form). The top entries will be judged by a panel of professionals and alumni, along with a crowd of students on November 16, 2017, at the final competition in the Commons Sports Zone.
Cash prizes are:
·         1st prize                  $750  
·         2nd Prize                $500
·         3rd Prize                 $250
·         Best Pitch               $250
How to Enter
To enter the competition, complete the UMBC Idea Competition Entry Form, which asks you to describe a problem or opportunity, and describe your idea for addressing it. Submission forms will be limited to one page, so you will need to articulate the problem you have identified and your idea succinctly. You will also be allowed to post a video to YouTube in which you can personally pitch your idea to the campus. The videos are not required, but they are encouraged as an effective way to communicate ideas to the review committee. YouTube videos are limited to 60 seconds and creativity is encouraged. Videos longer than 60 seconds will not be considered by the judges.
For a full list of the rules, visit http://entrepreneurship.umbc.edu/competitions/umbcs-idea-competition/
DEADLINE FOR SUBMISSIONS: October 12 at 1 PM