How NOT to Hire Your First 10 Employees Today!
Yair Flicker today—Mon OCT 9, 12-1pm Commons 329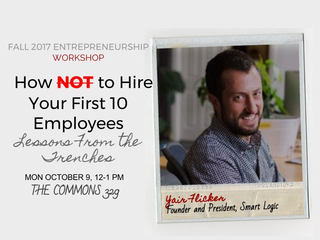 Join us for our second workshop of the semester, today—October 9th from noon to 1 pm in The Commons 329—to speak with and learn from Yair Flicker as he shares his "Lessons from the Trenches". He will be discussing his experiences hiring his first ten employees, what he learned and how you can apply those lessons to your own start-up. If you'd like the inside scoop on how management, hiring and firing really plays out, and how you can be a better leader and stronger entrepreneur, this is the talk for you. Bring your lunch and your questions—we can't wait to see you!
About Event
In this talk, Yair will share personal lessons learned in the hiring of his first 10 employees. He'll also cover management techniques helpful for the first-time entrepreneur new to hiring, firing, and managing others. 
About Yair
Yair is the founder/president of SmartLogic (
http://smartlogic.io/
), a custom web and mobile software development firm based in Baltimore. He started SmartLogic while completing BS and MSE degrees in Computer Science at JHU. Yair is a cofounder / board member of
TeamPassword
 and is the board chair for
Bikemore
. He is an avid runner, biker, and traveler.