Common Mistakes and Pitfalls Workshop Today!
ENTR Workshop with Rob Baruch- March 13, 12-1PM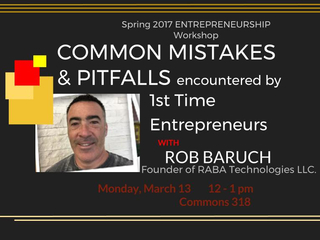 Are you interested in delving into the world of entrepreneurship with a great idea? Then don't miss this workshop with Rob Baruch on today, Monday, March 13 at 12-1 pm in Commons 318. Bring your questions and lunch, and spend free hour with us getting the inside scoop on how to avoid common problems and pitfalls on your entrepreneurial journey.
So, you've come up with a great idea and you're ready to launch your business. And you KNOW it's going to be a success!   However, you've never done this before, and there are some common mistakes and pitfalls first time entrepreneurs tend to encounter.  Want to avoid making those same mistakes yourself?  Then come to this workshop!  It can save you lots of time, effort, frustration and MONEY! You don't want to miss this one!
About Rob
Rob Baruch was the founder and former President and CEO of RABA Technologies, LLC . Rob has spent his career leading a great diversity of initiatives in information technology and engineering. He has strong technical and management experience in disciplines such as robotics, biomedical engineering, telecommunications, software methodologies, software product development, and management consulting. Rob holds a Master of Science in Computer Science from the Johns Hopkins University and received his Bachelor of Science in Computer Science from the University of Maryland, Baltimore County.