Idea Competition Submittals due THIS THURSDAY!
Don't miss out on submitting your revolutionary idea!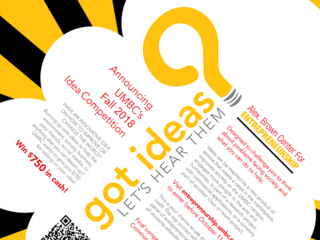 CALLING ALL IDEAS! The deadline for submittals for UMBC's annual Idea Competition is THIS THURSDAY, October 11th by 1:00pm! Your idea could win you up to $750, so make sure you don't miss the deadline! 
Do you have an idea that could potentially be the next best thing? Itching to create change in the world? UMBC's Idea Competition is designed to challenge you to do just that, and we are offering $750 for the most innovative idea! Applications are due October 11, 2018 by 1:00pm.
Submit your idea online via the 
entry form
. The top entries will be judged, live, by a panel of professionals and alumni along with a crowd of students at the final competition held 
November 15, 2018
, in the Sports Zone in The Commons. The top 3 winners, determined by the results of student and panel voting, will receive cash prizes up to $750. 
For more information, 
click here
 and decide whether you are up for the challenge!