The Sports Zone was packed Thursday night, November 17, for the 7th annual UMBC Idea Competition. Seven ideas were pitched to a crowd of UMBC's own, and a panel of three judges.  Stakes were high – awards ranged from $250 to $750 and all the ideas were original and innovative.
Both first place and best presentation were awarded to Erin Patterson and Brendon Thach from Senko Skipper. Their polished pitch and fabulous performance skills won the hearts—and votes—of the crowd. They took home a hefty $1,000 win, $750 for first place, and $250 for best presentation.
Senko Skipper is a YouTube channel dedicated to inspiring people behind their screens to go out and experience fun and quirky things in nature, by sharing their fish-related experiences from around the states.  Reflecting on her involvement in the competition Erin said, "Participating in the Idea Competition was a great way for us to really examine and define our business idea. We didn't have the latest technology or the coolest app, just an idea for a show that sparks discussion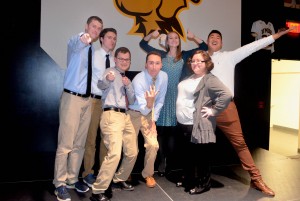 and engagement and encourages building relationships with nature. We would like to encourage anyone thinking about entering the Idea Competition to do so! We're so grateful to have such a supportive community at UMBC". With 2,570 subscribers and growing, Senko Skipper plans to organize events, meet and greets and tournaments to get people outside and fishing.
Second place was awarded to Jay McIntyre, who proposed an app called PLASMA (Personal Anxiety and Stress Management). She took home $500 in prize money and some serious admiration from the judges who told her, "There needs to be more people like you in this world". PLASMA seeks to gather everyone's favorite de-stressing apps on one platform where they can go to wind-down and gather themselves. While not only targeted to people with anxiety disorders, the app is meant to help all people take a breather from daily stress and anxiety from their fast-paced lives.
Finally, Solar Wind won third place with a $250 prize. The team was comprised of Alex Sanchez, Andrew Bowling, Joshua Piccoli, and Daniel Corteville. Solar Wind seeks to revolutionize both solar and wind energy by combining the two to optimize resources. With swivel technology, the team has designed a windmill with solar panels integrated into the blades, so when it is very sunny but not as windy, the windmill can turn to face the sun and vice versa.
Winners were chosen by a combination of scores from the voting audience and the judging panel consisting of three entrepreneurial alums: Neil Beller, President of Kit and Kaboodle Productions and The Beller Group, Danielle Burnett, President of Applied Technology Services, and Arsham Mirshah, Co-founder of Webmechanix.
A special thanks to our participants, alumni judges, and to all the students who came out to listen and help select the winners! Congratulations to all the Idea Competition participants!