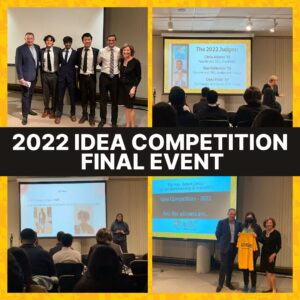 The ABCEI's 2022 Idea Competition Finale
On Thursday, November 10th, The Alex. Brown Center for Entrepreneurship and Innovation hosted the annual Idea Competition Finale. The 2022 event included eleven finalist teams, which consisted of students from various majors from UMBC and other Maryland Universities. The teams presented their ideas in front of an audience of students, professors, community members, and an esteemed panel of entrepreneurial judges, Chris Adams '15, Ron Callender '13 and Deep Patel '19. This year, The Alex. Brown Center added two tracks to the Idea Competition for students to enter: Technology & Innovation and Social Impact. After the students in each of the tracks presented, they faced questions regarding their idea from the judges. Once all presentations were complete, the judges deliberated and came to their final decisions for the stand-out ideas in each track. While the judges decided on the winners, the audience had the opportunity to vote on the Best Presentation of the night. The Alex. Brown Center would like to recognize the winning ideas below:
First Place for the Technology & Innovation Track: Braiding Buddy- Kaiya Meggett
In the hair community, there is a stigma around kinkier, coarser hair. It is often referred to as unmanageable or time-consuming. The Braiding Buddy tool will be a small piece of plastic that can help a braider make straight neat parts wherever needed on their head. The user can adjust it with sliding and malleable plastic pieces attached, which means users no longer have to spend hours questioning if their hair parts are straight or not.
Second Place for the Technology & Innovation Track: Lyme-Aide- Jaina Peveto
Lyme-Aid is an app that identifies bugs, animals, bites, and the diseases they cause. If the app users happen to find a tick on their body, they can take a picture of the bug and the app will provide them with information about their bite. The app will let them know what kind of tick it is and what kinds of diseases that tick is known to sometimes carry as well as if bug bite is immediately dangerous so the user can discuss it with their doctor.
Third Place for the Technology & Innovation Track: AirCloset- God'sfavour Sunday
AirCloset is an app that curates a digital wardrobe based on factors like the emotional patterns, events, daily weather, and more using machine learning. In addition, the feature is that it can actively find what would work with the outfit, as it scans through the user's clothes and tells them what clothes they can buy to optimize their closet (buy the least items to make the most outfits). AirCloset is unique as it allows users to sell their unwanted clothes using the app.
First Place for the Social Impact Track AND Best Presentation: Frugal Foodie- Jacob Funk, Chinat Yu, Sajiv Gnanasekaran, Luis Rivas
Frugal Foodie is an app that can empower college students to adopt a healthy diet. The app allows users to input their weekly food budget and then provides them with recipes and grocery lists that fit their budget. The app has a built-in calculator that lets users easily see how much each recipe will cost. If the user has a lot of leftovers in the fridge, our app leverages one of the world's most powerful AIs to generate a novel recipe for them to try!
Second Place for the Social Impact Track: Retrievers Essential Nitro- Michael Fakus
A number of students at UMBC are experiencing food insecurity according to the survey conducted by Retriever Essentials. 24% of students said they did not have enough to eat in the past 12 months, 38% said they lacked nutritionally adequate food during the winter or summer break, and 43% said their lack of food has affected their academic performance in the past 12 months.  Retriever Essentials Nitro has the goal of ensuring enough food for everyone. It includes three solutions: financial aid percent through unused meal swipes, an update to the Save-a-Swipe system, and spreading awareness about Retriever Essential across the UMBC campus.
Third Place for the Social Impact Track: Liftr- Robin Paranilan and Brian Rzepkowski 
The gym can seem like a very intimidating environment. It can be awkward and nerve wracking, for all people going to the gym. It could be new gym goers anxious to work out for the first time because they don't know what to do or need a buddy. Litr is an app that acts as a social hub to connect gym goers of all backgrounds and experience levels. This platform will offer features to get gym goers to know each other, connect potential gym buddies who want to work out together, allow users to share gym media, help gym goers see when their gym is busy, and who is there at the moment.
Congratulations to all of the 2022 winners! Here's what some of the finalists had to say about the experience:
"It was exhilarating! It made me feel like I could do what I thought was just a dream. I am grateful to have the chance to make my idea a reality and really help people like me." -Kaiya Meggett
"It was wonderful to see my fellow students and members of the entrepreneurship community all gathered in one place. I greatly enjoyed the presentations as well as the networking with different seasoned and upcoming entrepreneurs alike. It has really inspired me to develop my idea and I hope to present it in the Cangialosi Business Innovation Competition (CBIC) in the Spring of 2023." -God'sfavour Sunday
"The Idea Competition is one of my favorite events that the ABCE department hosts each year. Coming in as a freshman during COVID, it was one of the first UMBC events I participated in, and I am glad to continue being involved, especially in my first in person version of the event. I got to hear amazing ideas, network with students, and connect with mentors who really want to help make your idea a reality." -Robin Paranilam
"It was the perfect opportunity to motivate myself to kickstart developing my idea!" -Hamza Umar
To watch a video of several of the presentations, click here!